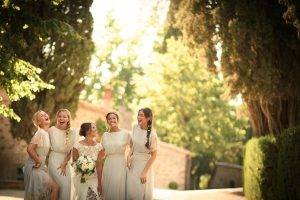 A wedding in Italy can be the stuff of dreams, and very often is. As an experienced wedding planner organising nuptials for English speaking couples in the land of romance and sunshine for a number of years, I've seen it all. Below are my top 10 tips to make sure the dream becomes a reality and not a nightmare.
THE SKY
1 – Never overlook the fact that you might need a plan B if the day doesn't turn out to be quite as sunny as hoped (and base your choice of venue on a outdoor only plan). Make sure you visualise the whole event from start to finish both in good weather and bad, and make sure there is enough space inside for all the guests if necessary. If you will need to hire a gazebo, make sure you get a quote early on and price this into your budget to save you a surprise cost the week before the big day.
THE HARD PART
2 – Never leave the paperwork to the last minute and wait for your Embassy or Consulate in Italy to point out that your name is written differently on your birth certificate and your passport, risking the ceremony. Do check with the local authorities in Italy and the authorities where you are a resident which documents are required, well in advance.
THE RAYS
3 – Never assume that getting married at 2pm outside in the middle of August will be as comfortable as you think. Do think about providing shade (drapes or sun umbrellas), fans and water, especially for grandma! Temperatures in Italy in July and August can be above 40 degrees and many Italians either stay inside until 6pm or escape to the sea! Consider a late afternoon ceremony if it fits with your timings for dinner and dancing.

THE LOOK
4 – Never try and achieve that golden tan in the days leading up to the wedding with some intense poolside sessions, fresh off the plane from colder climes. Do prepare your skin for hot weather and get protected!
THE GUESTS
5 – Never try and get involved in organising all the flights and accommodation for your guests by becoming a booking agent. You may still get calls on the morning of the wedding from auntie Sue asking for a room with an ironing board! Do try and offer guests concise information to help them book their own travel and accommodation arrangements.
THE FOOD, OH THE FOOD!
6 – Never get too stressed about trying to please everyone's taste in how they have their meat cooked. If opting to serve beef, Italians tend to prepare it medium or medium rare. Talk to the caterers if you'd like the meat to be cooked for longer and if there are any guests you know will prefer their meat cooked differently, or consider providing those guests with an alternative option. Tasting the menu in advance is a way to iron out any confusion.
THE SNAIL MAIL
7 – Never send important shipments for the wedding out to Italy within a month of the wedding date for risk of it turning up when you are well into your honeymoon. Do use reputable couriers and allow plenty of time.
THE BARMEN
8 – Never underestimate the spirit measures. Italians pour drinks like they drive, without adhering to limits or boundaries! A gin & tonic out here may be 3 times as strong as back at home! It may make for some interesting dance moves but you may like to think of a bar list in advance.

THE BIG MOMENT
9 – Never spend three hours with the hair stylist, only to hop in an open top vintage car to travel half an hour to the ceremony venue, along cypress lined, dusty lanes, and arrive looking like Doc from Back to The Future. Leave the funky car for after the ceremony, to scoot off with your new spouse, when everyone can see you…and where you have the chance to touch up any make up or hair dos before the next arrival.

THE JOURNEY HOME
10 – Never assume there are mysterious taxi ranks behind every olive grove just waiting to smoothly escort groups of merry guests back to their hotels, which they no longer remember the name of! Do plan some kind of transport in advance with a reputable transport company who either know the property or who will go and get to know it before the big day.
As a final tip – do I need to say it? Don't try and go it alone. A professional wedding consultant can save you time, can save you money and can save your bacon!